CES invites applications for Inclusive Ecology Workshop, Feb 2023 (Deadline 10th Jan)
Sat, 2022-12-24 12:50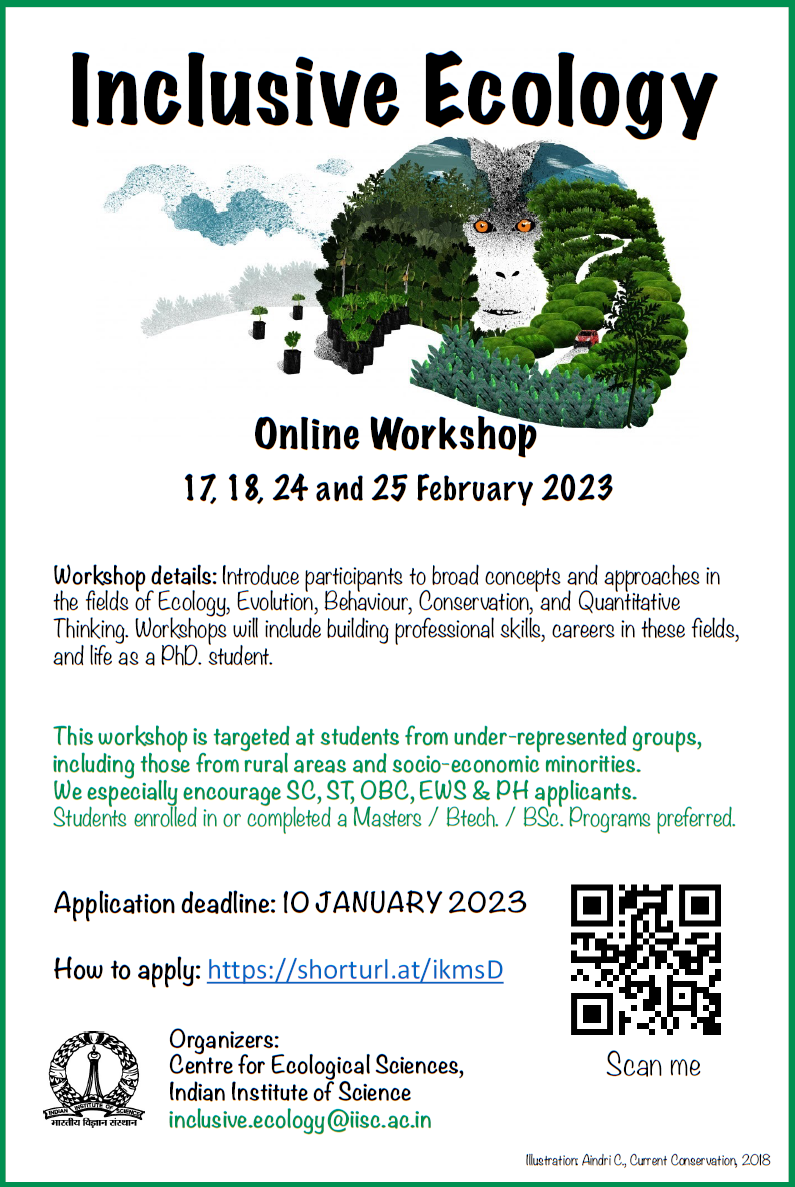 Inclusive Ecology is an online workshop organised by the Centre for Ecological Sciences, Indian Institute of Science, Bengaluru. 
The workshop will introduce participants to broad concepts and approaches in the fields of Ecology, Evolution, Behaviour, Conservation and Quantitative Thinking via workshops. We will also conduct workshops on building professional skills, careers in ecology, and life as a PhD. student.
The workshop is targeted to students from under-represented backgrounds, including those from rural areas and socioeconomic minorities (e.g. SC, ST, OBC, EWS or it can be self-declared -- see point 5 in the form). 
Students currently enrolled for B.Tech/BSc programs (2nd-year onwards), MSc (1st or 2nd year) or those graduated are all eligible. 
There is NO restriction on your current area of specialisation. We encourage students from all backgrounds -- from all branches of biology to physics to engineering -- as long as they show interest in ecological sciences. 
This workshop is NOT meant for those who are currently enrolled in a PhD program. 
Deadline for application: 10th Jan 2023
Application form: https://shorturl.at/ikmsD
Dates of the workshop: 17, 18, 24, 25 Feb 2023
Frequently Asked Questions: https://ces.iisc.ac.in/?q=node/1003
Please visit https://ces.iisc.ac.in/ to know more about the Centre for Ecological Sciences, IISc. 
Email us for any queries: inclusive.ecology@iisc.ac.in , but please check FAQ page to check if the question is already answered!